It's a crazy world we leave in. There are thieves lurking amongst us who can steal the information right out of your biometric passport or the micro-chip in your credit card. It is imperative to have a travel passport wallet that can protect your information from RFID (radio frequency identification).
There's a variety of travel security wallets, but not all of them contain 100% data protecting fabrics that block RFIC waves that lift your data. In addition some passport cases are just, bulky, ugly, and do not organize your credit cards and passport very nicely.
Today we have you covered with the best RFID travel wallet. Even better it's super affordable and you can get it on Amazon.
Best Passport Wallet: Venture 4th Passport Holder Review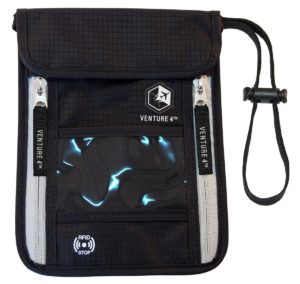 No matter what country you are in the Venture 4th RFID-protection neck wallet means that your information is private and secure. It features an adjustable strap, a moisture absorbing fabric on the back, and several well placed storage compartments.
While not everybody loves the look of a neck strap passport case it is the best place to keep your information when abroad so that your information is in front of you at all times. If you don't like the look of a neck strap, you can always tuck the holder inside your shirt. The strap is long enough that you could wear it on your shoulder or across your body if you prefer. The flexibility of how you can wear it are part of what make the Venture 4th the best passport case.
Best Passport Holder Features
Security: RFID Blocking
The Venture 4th has built in RFID blocking liner for 100% data protection. It blocks unwanted scans, ensuring that your cards and biometric data are secure.
Breathable and Water Resistant Nylon
The wallet is light-weight water resistant. It has a long durable adjustable hook rip-stop nylon strap and loop fastener. The back of the case contains wicking that alleviates moisture and allows air to flow naturally (ideal if you have it tucked in your shirt).
Ideal for Travel: Lots of Compartments and an ID Window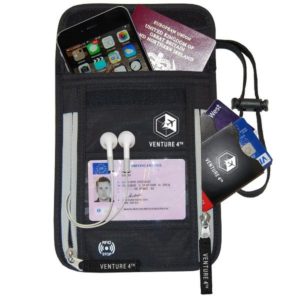 On the inside of the pouch there is a clear ID window that you can display your ID so that you don't have to fumble around at security checkpoints. There are also additional compartments for storing credit cards, debit cards, passports, tickets, travel information, and even your cell phone. These compartments include 2 zippered pockets, one Velcro pouch.
Unisex
The case a neutral grey color and works great for either gender and any body size.
Lifetime Warranty
It comes with a Lifetime Warranty – Simply return the item for a 100% refund or replacement.
What are RFID's and Why are they a Security Risk?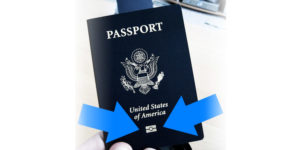 Many credit credits and even biometric passports (epassports) have RFID chip technology embedded in them. This technology exists for consumer convenience. This is the same technology used in your EZpass or fab key that allows you to swipe it next to a card reader to a pay a toll or get gas quickly.
Without protection of an RFID travel wallet, it's possible for someone to maliciously scan your data without your consent or knowledge. They have scanners that read the RFID chip right out of your wallet if you don't have the right passport pouch for traveling.
Pro's vs Cons
Pro's:
RFID Blocking
Multiple compartments w/ID Display
Very long adjustable neck strap
Lifetime Warranty
Well reviewed and liked on Amazon
Offered in a variety of colors
Priced to sell and offers discounts if you buy multiple
Con's:
Venture 4th Passport Holder Review Conclusion
Venture 4th Passport Holder
Security - 10
Quality - 9.4
Storage - 8.1
Price - 10
User Rating:

4.65 ( 1 votes)

I don't just say this the best passport wallet, almost 500 other people on Amazon also swear buy it. It is built well and has lots of room for storage. Sure I might prefer a leather passport wallet for the look, but if it doesn't have RFID blocking technology than what good is going to do when someone swipes your data and ruins your vacation.

If you need a trustworthy security wallet for travel, I think the Venture 4th Passport Holder is the best passport case and credit card hold you can get. Its affordable and does its job keeping your information private and secure

RFID Travel Wallets on Amazon