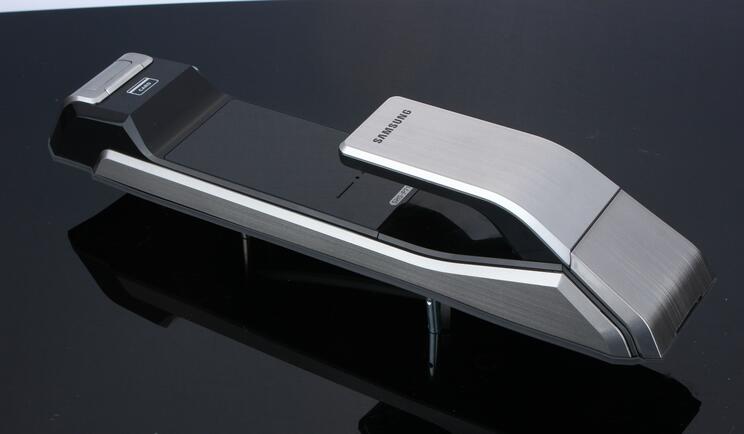 Protecting your home from intruders is important. By protecting it, you're not only protecting your possessions, but your family as well. What better way to protect your home than with a biometric fingerprint door lock. Not only that, but these locks can protect your office from getting intruded too, and your company's secrets stolen. Either way, there is no better way to protect your possessions with your own unique finger.
Reasons? Well, you can't lose a finger, and your prints are unique. That means that no one unauthorized can ever hope to unlock the door with their own fingers, nor can they trick the system and pick the lock.
Well, there are ways, to be fair, but more on that in our "how do they work" section below. First we will address the five of the best locks on the market right now and a bonus lock featuring a deadbolt.
We hope you will like our list, and hope even more that you will find one that suits your residential or commercial needs. So, here we go!
Top 5 Biometric Door Locks for Home or Office
Samsung has always been known for making excellent electronics, and they aren't going to stop when home security is in question. One of the best biometric locks is the Samsung Digital Door Lock. This amazing lock has a fingerprint scanner and a keypad for you to type in your password.
The lock can remember up to 100 fingerprints, so you can authorize more people to enter your premises. This makes the lock not only good for residential use, but for use by offices as well.
The lock also features a neat Double Notification system. This system allows you to set up a password and a fingerprint, and you have to input both. This is an excellent deterrent for intruders, as they will have a much harder time penetrating into your home or office.
The lock includes a Welcome Feature too. This feature allows you to carry an IR sensor that the lock will recognize the moment you find yourself within 70 cm off the door. The lock will then open to let you in. The lock also allows you to use a key card.
No lock is perfect, though, and Samsung Digital Door Lock certainly has a few downsides. The first bad thing is the price. This lock comes in at almost $500 which makes it more practical commercial than residential use. Another problem might be that the lock will need a professional to install. The instructions are pretty clear, but you will also want to consult a professional, because you're handling a pretty expensive item at this point.
Lastly, the lock does not accept several different passwords. If you were to give a password to your friend, for example, it will be the same password you're using. For a $500 item, we would like it to have a bit more flexibility.
Pros
Fingerprint Scanner and Keypad
Stores up to 100 Finger prints
Good for Residential and Office
Ability for two factor Authentication
Features an IR sensor
Can use a key card
Cons
Expensive
Needs professional installation
Stores only one keypad password
All in all, this is an excellent lock, and we recommend it. That is if you have a need for such an expensive high security lock. If not, take a look at other items on our list.
Check Latest Price and Details Now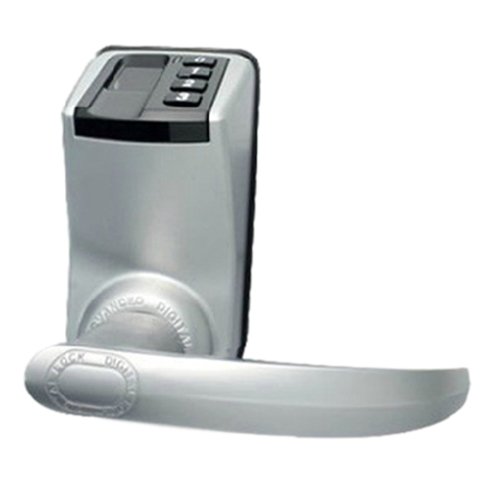 Adel 3398 falls into the category of less expensive biometric locks. This lock costs just about $100 and does its job fairly well. Now, this isn't a Samsung, but it will do the trick and do it well…at a much lower price.
Just like with the one before it, this lock uses both a pin and a fingerprint scanner. However, this lock also has a key that you can use. The lock allows you to set up Master and Temporary users.
One of the things we liked the most is, in fact, the mechanical key. This will prevent you from becoming locked out if the batteries do die. The lock uses 4 AAA batteries, and it uses a 9 V backup battery, in case the AAAs die. So now, not only do you have backup power, but you can unlock your door with the mechanical key, if need be, or if you're feeling old-fashioned.
Like we said, this is not a very expensive lock. While that is a definite pro, it can also account for some of the problems you might have with the lock. One of the problems is that the scanner is a little bit touchy. Sometimes it just won't read your fingerprints, simply because you haven't placed your finger on it right.
Another problem is that the lock comes with a pretty hard-to-read manual. The lock has been made in China, so you can expect a lot of problems with spelling and grammar.
Pros
Inexpensive
Features Keypad and finger scanner
Override key to mitigate dead batteries
Setup master and temporary users
Cons
Scanner has limited sensitivey
Installation instructions written poorly
All in all, Adel is a very solid lock. It works great, and is surprisingly easy to install as long as you manage to understand what is written in the instructions. But, hey, when you're paying $100 for a fully functional fingerprint lock, you can't really complain about it that much.
Check the Latest Price and Details Now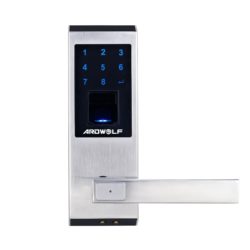 One of the most reliable and affordable locks is the Ardwolf A20 Biometric Fingerprint Lock.
This excellent item also offers three ways for you to unlock the door. You can either use your fingerprint, a password or the mechanical key. You can also set up the password-fingerprint combo.
The lock is able to take on 100 different fingerprints and keep the stored.
But this door lock has something else that is most impressive. The lock features a Random Password Protection system. This clever system allows you to add any number of random numbers around the real password, and the door will unlock. This is greatly convenient, as an onlooker has no chance of guessing your password.
Lastly, the lock has a passage mode. This mode is very convenient for when you have a lot of people coming through the door (such as in the office). This mode allows you to unlock the door just by pressing the handle.
It is also important to note that the device has a 9V emergency battery as a precautionary measure against the 4 AAAs dying.
Overall, this lock is so well made that it's really hard to find something that you could call a con. However, nitpickers that we are, we managed to find a few things couple things wrong with it.
The first issue is that the keypad does not feature a 0 or 9 keys. This might not a big problem, because the other 8 digits can make a really good code. However, the absence of these two keys reduces the overall numbers you can use for the password, and thus is statistically easier to guess the code.
The other thing we would say is a con is that the code has to be at least 8 digits long. This, of course, has been done to make this lock even more secure. However, an 8 digit code is much more easily forgotten, and, if you're only using the code, you will be locked out.
Pros
Affordable
3 Unlocking options
Can use two factor authentication
Stores up to 100 fingerprints
Features a passage mode
Options for left or right handle
Cons
Limited digital combinations can be set
Lengthy Pass codes hard to remember
Overall, the lock is a solid choice, and is fairly affordable of a high tech lock. The Ardwolf  A20 seems to be a bargain for what you get for the price.
Check the Latest Price and Details Now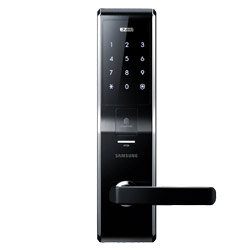 Here we have another Samsung digital fingerprint lock. This lock is a completely keyless lock. This means you will only unlock it using the fingerprint or the password. Luckily, Samsung made sure to make this lock as intuitive as possible, and it is very hard for it not to recognize your fingerprint.
Just like the other Samsung, this one too can remember up to 100 fingerprints. You can have 4 master fingerprints, and then another 96 guests. The lock is super easy to reprogram, and most of the instructions for reprogramming are on the battery case.
The lock can also remember another 10 codes, so you can have multiple persons (like your family members) accessing your house, or office.
Overall, the device is very nice to sleek, and has a very modern design. It's price, well, that's another matter.
One thing we would hold against this lock is that it is pretty hard to install. Most likely, you will have to summon professional help, as the lock may prove too complicated for DIY. The other problem is the price, and you certainly wouldn't want to muck up the installation of a $300+ lock.
Though we're here talking here about biometric locks, we did like the other locks because they came with a mechanical key. This key acted as a certain failsafe if the batteries die. Though the batteries on this Samsung last quite a while, maybe this little fail safe wouldn't be so bad to have.
Pros
Accurate finger print scanner
Easy to reprogram
Keypad stores up to 10 codes
Stores up to 100 fingerprints
Can set 4 master users
Cons
Expensive
May require professional installation
No key for backup
We can't really say anything that bad about this lock. It is priced on the high end of the spectrum, but it offers outstanding quality. It is master crafted, fast accurate and convenient. We definitely recommend it.
Check the Latest Price and Details Now
Last but not least is the Ardwold A1 biometric door lock.
Of all the locks we presented, this one is the most impressive, or, rather, the most flexible. While others offer you up to three ways to unlock it, the A1 offers you five. The first three are standard – key, fingerprint and passcode, but the other two are dual protection systems. The first is a fingerprint plus code, and for the other you will use two fingerprints.
Needless to say, this device also has an exceptional memory. It can remember up to 100 prints, and, check this, up to 100 codes too. This not only allows you to allow access to a wide number of people, but you can choose a code for every week in the year, making this lock amazingly safe. And, we must note, you get all of this for about $130.
Naturally, no lock is perfect and even the A1 is not an exception. This lock works about 90% of the time when it comes to fingerprints, but sometimes it just won't recognize a new entry. Some users even report that they have to scan their fingers 10 times in order for the device to recognize it.
The lock can be also a bit of a pain to install. Actually, the lock itself is pretty easy to install, and it's the instructions that complicate things. They are somewhat inaccurate, so be sure to check for a manual online.
Pros
Affordable
5  options to unlock the device
Allows for multiple factor authentication
Can store 100 finger prints
Can store 100 key codes
No Drill required for installation
Cons
Can be difficult to scan new users
Installation instructions are not accurate
Lastly, there isn't anything more to say about the Ardwolf A1 other than it's simply amazing. It is very accurate (even though it has a few hiccups), high-quality and has a good database. Coupled with a good price, and you have yourself an awesome value product.
Check the Latest Price and Details Now
So we might have lied and said we've only got five of the best locks, but, we also decided to include this ASSA ABLOY lock. Why?
Because it has an awesome deadbolt setup along with a bio locking device…
Best Biometric Deadbolt Lock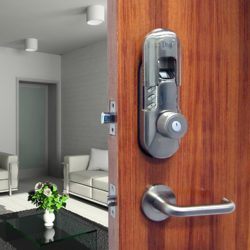 All of the locks on our list use a mortise. That being said, they won't fit you if you used a deadbolt lock, or, rather, you will have to adjust your door to fit the lock. For this reason, we thought it prudent to include this little thing here, just for good measure.
This lock also has three ways of unlocking. You can use the fingerprint, the code or the override key. The lock is very reliable and easy to install. It also has a very good database, and it can remember up to 100 prints and 78 codes. That being said, this is one of the more expensive locks (compared to the ones we listed above), priced at about $220.
This is easily one of the best biometric locks with a deadbolt.
Check the Latest Price and Details Now
How do Biometric Door Locks Work?
Biometric fingerprint locks operate on a very simple premise – you put your finger onto the scanner, and the lock remembers it so you can unlock the finger the door. But, there is a little more to that than a simple pressing of your finger against the scanner.
What the scanner does, in fact, it scans your fingers for minutias. Minutias are fractions of your fingerprints and a single fraction is constituted of two instances of ridges of your finger. The scanner then converts this into numerical data and uses it to match the fingerprints presented to it. If there is a match, the door unlocks, and if there is not, then the door stays locked.
Now, this system seems very much foolproof, right? Considering that you use your own fingerprints that are unique in every way, there is no way the lock can fail. Well they are more secure than mechanical locks, but they can fail.
Can the Scanner be Fooled?
You see, there are several ways, or rather, several principles on which these locks operate. Some locks use an optical system to scan the fingerprint. These types can fooled by an image of the finger. Of course, this won't work every time, but it just might if the photo of the finger is super high quality. Some locks use a capacitor that makes a mold of the finger. These can be bypassed by presenting the right mold of the fingerprint like in a James Bond film.
However, there are locks that can't be fooled by any of these tricks. These are locks have the heat and pulse detection. These locks are capable of detecting your body heat, as well as your pulse.
Another problem that is very common is the problem with the lock itself rejecting the fingerprint. Either at the start of the scanning process or later when you try to unlock, the lock sometimes just won't open. This can occur for two reasons. Sometimes, if you have a scar on your finger, or if you've cut it, the scanner will treat this as a change in the code, and won't open. The other reason is simply a faulty system and it just won't recognize your fingertip, to begin with.
The Advantage of High Security Locks with Biometrics
Of course, the advantages of the fingerprint locks heavily outweigh the disadvantages. The ability to unlock just with your finger is super convenient and super safe. Not only that, but you never have to worry about losing your keys again, nor do you need to remember passwords. Even so, for added protection, most fingerprint locks feature either a keypad for the code, but also a key. This is mostly so you can unlock your door if the battery powering the keypad and the scanner dies.
Conclusion
Well, there you have it, five great locks (plus one deadbolt). We have some more and some less expensive entries, but all of them work, and all of them do their jobs well. Now, it is up to you to pick the one you like most, or the one your budget will allow you to get.