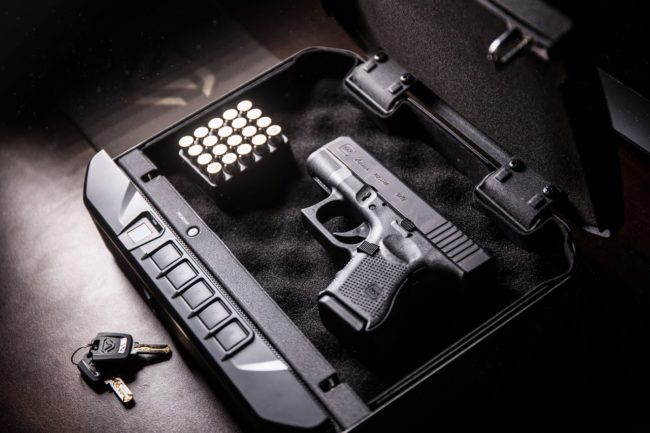 If you have a handgun in your possession, the chances are you will want to store it somewhere where you will be able to access it quickly in case you need it, but also somewhere where your children won't be able to reach it. If that is so, you will need a biometric pistol safe.
Biometric pistol safes are the smallest of gun safes around, but they're not in the least unsafe. These pistol safes will protect your property, and stop unauthorized access in its tracks. A weapon is only as dangerous as the hand that wields it, so why not be sure and allow only your hand to touch it.
How Do Fingerprint Handgun Safes Work?
Biometric pistol safes work pretty much like any other biometric security system works. For it to unlock, you would have to produce a bodily characteristic. This refers to your retina, your voice or your fingerprints. Since these are very hard to replicate by somebody who is not you, these locks are extremely safe and nearly impossible to override.
Of course, these locks do have their disadvantages. Some of them use an optical system to recognize fingerprints, so they are much more easily fooled, if you, for example, have a picture of the fingerprint in question. However, fingerprint recognition systems that are used now are much more advanced than that, and they use a scanner that detects your pulse and body heat, so it is impossible to break the lock with a cut-off finger like they do in the movies.
In addition to finger scanners, many safes can also carry a mechanical way to unlock it (like a key). This is because the biometric locks have to run on some kind of batteries, and, if the batteries die, you won't be able to unlock the safe. Here, the key is not a primary locking measure, but a failsafe if the primary lock fails.
And that's it for this little how do they work section. Now, it is time to present you with a total of 5+1 safes, the best fingerprint gun safes on the market for you to choose from.
Top 5 Best Biometric Pistol Safes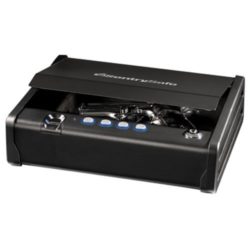 At the top of our list stands the Sentry Safe Biometric Pistol Safe. One of the best and the most reliable, this gun safe will make sure nobody lays hands on your weapon without your say-so.
This gun safe is large enough to hold 1 J&K revolver or a semi-automatic handgun. The safe allows for one-handed use to facilitate quicker and more convenient access. The single-handed use is made possible through gas-operated struts that pop the top lid off. The safe features a fingerprint scanner that can recognize up to two separate fingerprints, and a few keys so you can set up an unlock code. Lastly, the safe has an override key, if there is something wrong and you can't access the pistol with either the code or the print.
The overall construction of the safe is very solid. It is made of reinforced 12 gauge steel to prevent physical damage. The safe's lid is also pry-resistant, and it will be immensely difficult to try and forcefully open it.
Lastly, it is important to notice that the safe is completely silent, and there are no audible signs of opening at any time.
No safe is completely safe (excuse the pun), and they have a few drawbacks here and there. With this safe, the main problem is the battery. The batteries are alkaline and not rechargeable. This puts you in a bind where you have to change them every 3-5 months, just to be on the safe side. However, if you forget – well, let's just say that you'll be going without your service gun for a while.
Pros
Large compartment
Quick access with one hand
Features an override key
Doesn't make noise when opened
Solid construction/Pry resistant
Cons
Batteries are not rechargable
Accepts only 2 finger prints
Overall, this is fantastic handgun safe. It will keep intruders out, and let you in quickly. My only wish we would be for more reliability with the battery power. This is the only downside, and without it, it would be a near damn perfect small firearm vault.
Check Price and Latest Details Now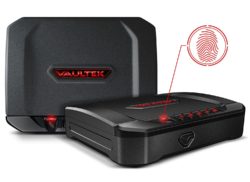 If you fancy something more sleek-looking and more expensive, than you might what to check out the Vaultek VT20. This biometric pistol safe is extremely reliable, and very safe because it features interior mounted hinges, security brackets, and anti-impact latches. Not only that, but the door is mad to be pry-resistant, so it will be incredibly hard for a thief to force it open.
The safe has two security measures, the fingerprint scanner, and the 5-digit keypad. They both work quickly and are extremely precise, and both have a red backlight, providing you with maximum visibility in the dark.
Lastly, the safe can be paired up with your smartphone via the Vaultek Bluetooth app, which will allow you to view the battery level, as well as adjust the red backlight levels, and remotely unlock the safe.
Just as the Sentry, Vaultek's battery isn't the best. It will last you about 4 months. However, the Vaultek has one advantage over the Sentry, and that is a rechargeable battery.
That being said, the charger port is a bit exposed. This leaves the potential thief with a chance to zap your safe and fry the circuits, this gaining access. Also, the app always disconnects from the safe, and you will need to pair it up again the next time you're using the phone to remotely open the safe. This is not very safe, nor is particularly user-friendly, as it will require time – time that you might not have in a crisis situation.
Pros
Brilliant design
Fingerprint scanner and keypad
Light for visibility in the dark
Pairs with a bluetooth
Solid construction/Pry resistant
Rechargeable batteries
Cons
Charger port is exposed
Batteries need frequent charging
Bluetooth connection not user friendly
All in all, this is a very solid safe. It does its job, and it does it well. The battery does not last as long as other options, but its rechargeable. On that note, the port seems a bit exposed, but that's not too much of a problem. We would also wish for the app to be a bit more user-friendly, but it's an extra, so we can't really nitpick about that.
Check Price and Latest Details Now
Now, if you want to be really fancy, then you should definitely check out Verifi Smart.Safe. The most expensive, this safe is the cream of the crop when it comes to handgun safes. It is reliable, fast to recognize prints ad extremely strong. All in all, this safe is the one you get if you want real protection.
The reason this safe is so outstanding is because it has an FBI certified fingerprint sensor. This special silicone-based sensor uses 3D technology to map out your fingerprint and is virtually unmistakable. Not only that, but you are given a great control over who you want to authorize to have access to your fingerprint. You have 2 master prints, and then you can add guest prints. The guest cannot delete the master prints.
Another great thing is the overall design and construction of the safe. The product features a small but very readable LCD screen, which shows you the battery level. The entire safe is made out of 16-gauge steel, and it has two safety locks, mounted on the inside, to prevent intruders from prying open the door.
The bad sides of this product aren't really that bad at all. This is due to the excellent craftsmanship and the beautiful biometrics of the device. The only thing we can list as a con is the item's price. At just over $300, the product has quite a hefty price tag. However, considering how awesome this safe is, and how amazingly secure it is, it is hard to really nitpick about the price – you get what you pay for, and more.
Another thing that you perhaps may not like is that the safe does not have a keypad. This safe is opened solely by fingerprint recognition. That being said, the sensor is incredibly responsive, up to the outright point where you don't even need it.
Pros
Most reliable fingerprint scanner
FBI certified scanner
Stores 2 master prints and guests
LCD screen
Solid construction/Pry resistant
Cons
Expensive
No keypad backup mechanism
All in all, this is a superb safe and one of our favorites except for the price tag. For anyone that has the funds to purchase this safe, we warmly recommend it.
Check Price and Latest Details Now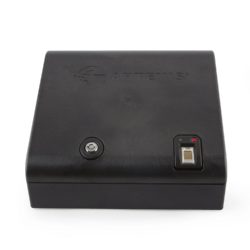 If you're looking a plastic alternative to steel safes, then Artemis Biometric Handgun Safe is just the thing you need.
This safe is made from weapon-grade polymer, and is able to withstand the weight of a full-sized freight truck. This proves that the safe is neigh unbreakable, so you can fully trust it to keep your weapon away from the intruders.
The safe features a fingerprints scanner and a an override key. The fingerprint scanner uses a special 360-degree technology that allows you scan your finger from whichever direction you want.
The setup is very easy – just press the red button above the scanner, and put your finger onto the scanner for the device to remember it. The safe has an extraordinary memory, and allows for storage of no less than 200 fingerprints.
Another good thing about this safe is that it does not have the swipe feature most safes have. This makes the safe even more secure, as the swipe function can be a little bit finicky and overall unreliable. This safe also has a very loud alarm that will sound if somebody tries to access it unauthorized five times. It will also sound an alarm if the batteries are low.
We like this safe. We like it a lot. But we can't help to believe that it could use some improvements. For example, we would like it to use rechargeable batteries. Instead, Artemis uses 4 AA batteries. The manufacturer says they will last you a year, but we're a bit skeptical about that claim.
The safe also requires you to push the red button when you're scanning the finger to open it. This we could do without, as it slow the process of opening down, and in panic, you may miss out on that important detail.
Pros
Stringest pistol safe (unbreakable)
Fingerprint scanner and override key
Scan finger in multiple directions
Can store 200 fingerprints
Alarm for low batteries and unauthorized access
Cons
Batteries are not rechargable
Accessibily requires finger scan and button push
All in all, this is a very satisfactory safe. We like it particularly because it is so easily set up, but we would wish you didn't have to press the red button when scanning the finger for the second time.
Check Price and Latest Details Now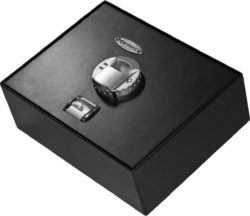 Last but not least, there is the Barska Top Opening safe. This product is one of the most compact, but also one of the most secure safes on the market.
The safe features a fingerprints scanner that can remember up to 30 individual fingerprints, and comes with two master keys in case the scanner fails.
On top of that, the safe's security is further increased by two solid steel locking deadbolts. This makes the safe virtually impossible to pry open.
The safe also comes with a full set of tools, and the safe itself has holes pre-drilled so you can fixate it to the floor, a shelf or a counter top.
The only complaint we have about this safe is that it beeps every time you try to open it. Most of the safes we presented are made to be as silent as possible, for, in the case of an intruder, you might just find yourself reaching for your pistol and, if the safe beeps, you'll give away both your position and possibly provoke the intruder, which can be very dangerous if they're armed as well.
On top of that, there is no battery life indicator. This safe uses 4 AA batteries, and the manufacturer states that they are capable of supplying power for full two years. While we trust the manufacturer, we would also like to have the indicator, if anything, for our own amusement.
Pros
Compact and secure
Stores upto 30 finger prints
Has two master keys
2 steel locking deadbolts
Can be hard mounted
Solid construction/Pry resistant
Cons
Beeps when opened
No battery life indicator
Overall, this is a wonderful safe. It is very secure and nearly impenetrable. It is also very easy to set up and use, very quick to unlock, and the scanner is very responsive, not requiring more than 2 tries to unlock it, if even that.
Check Price and Latest Details Now
Best Gun Safe for the Car
While the above are great hand gun safes and are compact enough to carry in your vehicle, there is one in particular built for that purpose….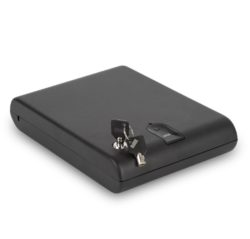 Our +1 safe is the Ivation Portable Car Gun Safe. As its name says, this is a safe best suited for storing your pistol in a car or truck.
The safe features a sensor and a master key that will override the safe in case of emergency. This safe can remember up to 32 different fingerprints.
The most important feature of this product is its compact size. The safe is quite small, and it can very easily fit into a glove compartment or under your seat.
Aside from that, the safe is very fast when reading fingerprints and the scanner itself is very accurate, removing the unnecessary frustration of having to place your finger on it a dozen times.
The only problem with the safe is its size, which is ironic, as this is its strong suit. Because it is so compact, you may have a problem with fitting some larger handguns. For compacts, however, this safe works like a charm.
Check Price and Latest Details Now
Conclusion
Well, there you have it, five excellent gun safes, and one for your car. With these, you will never have to worry about leaving your weapons in the open for someone to steal them, or worse, for your children to get a hold of them. Protect your weapons, and they will protect you, and protect them by using a biometric fingerprints gun safe.