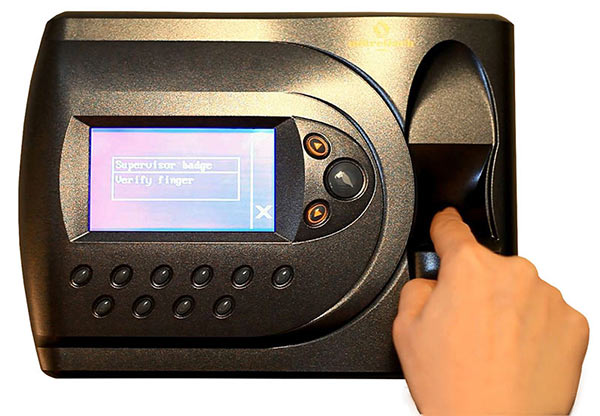 With the commercialization of biometric technologies, more and more areas of human entrepreneurship have started using this technology to their advantage. From biometric locks to phones, this technology is slowly becoming a standard. For small businesses, biometrics now means that they can track their employees more efficiently.
Through fingerprint recognition, fingerprint time clocks are made much more efficient and convenient for both the employers and the employees.
Now, if you're an owner of a small business, then you've come to the right place. In this article, we aim to present you with five excellent biometric employee time clocks, as well as to educate you a little bit on how do they work and what are their main advantages.
How Do Biometric Time and Attendance Clocks Work?
Biometric time clocks operate pretty much like regular time clocks, but with one major difference. Before, time clocks used paper (those are really old), keycards, or swipe cards. However, this made it much easier for the employees to buddy-punch (but more on that later). Biometric time clocks require your employees to put their finger on the fingerprint scanner to verify their identity and "punch the clock".
Now, we know that you might be concerned about privacy issues, and your employees certainly will be. However, fingerprint time clocks are entirely safe. In fact, they have been made to prevent identity theft from the get go.
The way they are preventive of identity theft lies in the way they scan the finger. Police grade scanners take a photo of your fingerprint; time clock scanners do not. Instead, they transform a fingerprint into coordinates, based on the ridges of the finger, and store this data. Later, when the finger is presented, the time clock will bring up the stored data and use it to compare the coordinates in its memory to the finger that is being scanned.
And that's all you really have to know about how fingerprint time clocks work. Now, let us not dally any longer, and introduce you to the devices (which is the reason you are reading this in the first place).
Top 5 Biometric Time and Attendance Clocks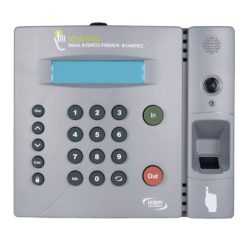 Our first product comes from Icon Time Systems. Their time clock is one of the best on the market because it offers a great value for the money. It has virtually no additional software that needs to be installed, and you can use it immediately, the moment you put it up. The time clock is very well suited for small businesses, as it has a capacity of 5-500 individual fingerprints. The machine can be accessed from multiple devices, allowing you to view its log more effectively.
The time clock also offers you, or, rather, your employees, several different ways to punch in. You can have them use a pin, a badge, Web punch and, of course, a fingerprint scanner. The web punch system is especially useful if you have employees working from home or otherwise outside the office, and 15 WP licenses can be issued. The time clock also uses a camera in case somebody fails to have their fingerprint recognized, which is also a good security measure.
This is a wonderful clock, but there are some things that might just deter you from buying it. Icon Time Systems will actually charge you to upgrade your system to include more features. The first time you buy the device (which costs about $550) you will only be able to introduce about 100 fingerprints, which is not that great, considering there are biometric locks that can memorize that many fingerprints and they cost about $150. For a full 500 fingerprints, you will need to expand first to 250, then to 500.
Also, if you want to use the Benefit Tracking you will have to pay another $115. Also, the support will last you 30 days, and for additional support you will have to pay $199 to $299.
Pros
Great value
Plug in and play
Stores between 5-500 fingerprints
Multi-Device login for monitoring
Multiple time punch options
Features a camera for security
Cons
Additional charges for upgrade options
Only 30 days of support – Longer support requires payment
All in all, this is a splendid device. It will cover most of your needs, but they will come at a higher cost. We can recommend this time clock, but we advise your come prepared for the extra costs.
Check Price and Latest Details Now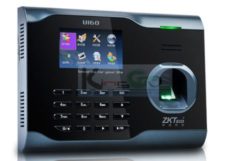 For those looking for a budget time clock with fingerprint recognition, there is the U160-C. The item's very sleek and fashionable design is only overshadowed by its amazing versatility and incredible precision. The device is incredibly easy to set up, and TCP/IP connection for extremely fast transfer of data and accurate tracking. The device also uses Linux operating system.
One of the greatest things about U160-C – and its main selling point – is its incredible capacity. The device is capable of storing between 1000 and 5000 individual fingerprints, along with a whopping 100.000 transaction records. The device is incredibly intuitive, and it allows you to, using the enormous data that it collected, generate a myriad of reports on employee attendance.
The U160-C seems pretty amazing, but it is not without its flaws. The U160-C has an incredibly hard installation process, and we don't mean the hardware either. The drivers for this time clock seem outdated, and you will have a hell of a time trying to find ones that will work with anything that is not Windows XP. And since Windows XP has been discontinued, have fun trying to find proper drivers with tech support.
Another problem with the installation is the fact that the device does not come with a manual. Rather it does come with a manual, but not the one you will need.
Pros
Inexpensive
Easy to setup
Fingerprint scanner is precise
Stores between 1000 and 5000 fingerprints
Stores 100,000 transaction records
Can generate advanced reports
Cons
Installation instructions are vague
Works best with Windows XP (discontinued)
Overall, this is a great device. It has a superb capacity and is incredibly intuitive. Its scanner too is very intuitive, and overall very quick to read the prints. However, this is all if you manage to boot the thing up. But again, this is a budget time clock, so you can't really nitpick about that.
Check Price and Latest Details Now
Now, if you want to take anti-buddy-punching to the next level, then you need the Lathem FR650. This biometric time clock does not use a fingerprint scanner, nor does it use swipe cards, pin numbers or badges – this clock uses a face recognition system.
The face recognition system is one of the most advanced biometric systems. It, in essence, scans the user's face and transfers it into data, similar to a fingerprint scanner. The photos of the faces are discarded, as a safety precaution, and the coordinates are stored. The next time the user steps up to the scanner, the device will scan their face and match it with stored coordinates.
The reason this system is so great is because it is nearly impossible to trick it. It is so precise that it outright stops buddy punching. If employees think that they can trick the device with a simple photo, they're sorely mistaken, as the device does not remember the face, but its shape and curves.
As for the capacity, the stock system offers memory storage of 50 individual faces. However, if you pay a little extra, you can expand this to about 200. That being said, this device is more suitable for smaller offices and businesses.
Of course, such an outstanding system won't come cheap. The device carries a price tag of about $450 on Amazon, which does not seem so expensive. However, if you have more than 50 employees, you will have to expand. The expansions cost money as well, increasing the overall cost of the item.
On other note, if you, for example, want to add a new unit, it will not add another 50 users. That being said, no matter how much units you add, you will be stuck with 50 users in total. For extra, you will have to pay extra.
Pros
Advanced facial recognition
Nearly impossible to fool
Eliminates buddy punching entirely
Good for small offices
Cons
Expensive for only 50 users
Additional users (up to 200 ) cost extra
Overall, for those looking for a very reliable anti-buddy-punching device, Lathem FR650 is your best bet. It may be a little pricey, but it is well worth it.
Check Price and Latest Details Now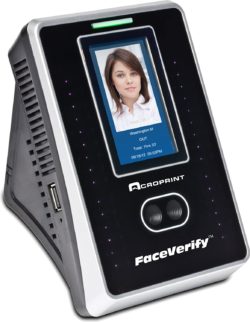 Another face recognition biometric time and attendance clock, FaceVerify comes to us by the way of Acroprint. This amazing device is extraordinarily accurate and is the perfect way to stop buddy punching and other forms of time-stealing. This is a complete no-touch system, and your employees have no way of tampering with it. In addition, the face recognition system is impossible to trick, as it converts the shape of one's face into coordinates and stores that data.
The device can recognize up to 100 faces, using the TimeQPlus Network software, and you can even upgrade it to 250. The device comes with a 2-year warranty and the manufacturer offers 30 free support.
In addition, FaceVerify is compatible with third party payroll and accounting software, and has multi-departmental tracking. This all makes Acroprint FaceVerify one mean biometric time and attendance clock, and we warmly recommend it.
Of course, no product is perfect, and FaceVerify has its own hiccups. The main problem, again, is the price. The product is slightly less expensive than FR650, and it costs about $430 on Amazon. If you are to expand the capacity to 250, you will have to pay extra. Just like FR650, adding another unit will not increase the number of users, as the units are all connected to one network.
Also, for support past 30 days, you will have to pay extra too. During the first month, you can use the support free of charge, but past that, you will have to pay additional money, thus raising the overall price of the device.
Pros
Advanced facial recognition
Nearly impossible to fool
Eliminates buddy punching entirely
Tamper proof
Stores 100 users out of the box
2 year warranty
Compatible with thridparty payroll software
Cons
Expensive
Additional users (up to 250 ) cost extra
Only 30 days of free support – charges after
All in all, FaceVerify may not be the most affordable of items. However, it is less expensive than both the FR650 and the Icon Time System's Small Business Biometric Time Clock. With that, if you were to opt for this time clock, it might just turn out to be the more prudent choice.
Check Price and Latest Details Now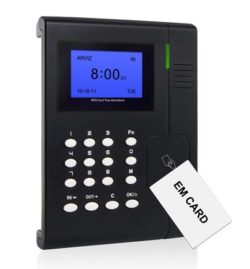 Last but not least is the Anviz Oc180 Wall Mount Fingerprint Timeclock. If you want a pack mule of a time clock, then Oc180 is the one to get. This biometric time clock is incredibly fast, thanks to its outstanding high-speed processor. It uses both the USB and TCP/IP connections and has a built-in RFID reader. The whole unit is very slim and thin, wall-mounted, and looks very professional overall.
However, its selling point is not the design, but capacity. Of all the items we have on our list, this one has the largest capacity, and by far. Oc180 can service up to 20,000 users. Such capacity makes it viable for use by much bigger offices and companies.
Of course, no product can be flawless. Oc180, in particular, can be quite tricky to install. The instructions aren't always the clearest, even though the manufacturer advertises it to have clear voice prompts. However, the instructions are not very helpful, so you may be required to call tech support, and ask a few questions. Luckily, tech support is very responsive and professional, and you will be serviced immediately and with good results.
Pros
Fast processing
Best internal technology
Can save up to 20,000 users
Great for big companies
Built in RFID reader
Responsive tech support
Cons
Hard to install
Poorly written manual
All in all, Anviz Oc180 is a good device, and you will certainly like using it. Their tech support is excellent, and if you have any problems, be sure to call them and have the matter settled.
Check Price and Latest Details
What are the Benefits of Biometric Time Clocks?
For an employer, this is a very fair question. As an employer, you would like your employees to be at their best behavior and you would like them to be at work on time. This way, you are getting the maximum production out of them, and thus will profit more.
However, old time clock systems were easily tricked. This is where buddy-punching comes into play. Because old systems did not know how to recognize unauthorized punching in of another person, they could be abused. This isn't a problem if an employee is late a couple of minutes because they got stuck in a traffic jam, but in some extreme instances, the employees took turns to clock one another in while the other person would take a paid day off.
So, in essence, the biggest advantage of biometric time clocks is that they effectively stop buddy punching. They also keep better track of who's coming and going, how much are they staying overtime, or how many breaks are they having. All of this helps you create a better image of your workforce, and pay them according to their merit.
Lastly, biometric time clocks are excellent safety measures. They use either face recognition or fingerprint recognition,which is very hard for unauthorized personnel to gain entry to places where only employees are allowed.
Conclusion
And, there you have it, 5 best biometric time clocks and a little bit of essential information about them. The buddy punching days are over for your employees, and you can finally sleep safely at night knowing that your iron fist hangs firmly above all of them. Rock on!